INFRASTRUCTURE
We have the highly trained infrastructure to provide the best solutions meeting quality standards.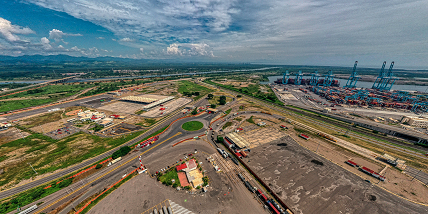 The port has direct access to the highway that connects the main cities in the center of the Republic, in addition to having an agile operation to evacuate cargo in the port.

The Terminal will have rail service within its facilities connecting to the main roads of Kansas City Southern of Mexico, a rail operator that serves the port of Lazaro Cardenas, connecting directly with important shipping points, such as: Celaya, Querétaro, México, DF, San Luis Potosí, Saltillo, Ramos Arizpe, Monterrey , Matamoros and Nuevo Laredo. It also connects with the ports of Tampico / Altamira and Veracruz.
Through rights of way, you can access Puebla, Aguascalientes, Silao and Guadalajara, and through interline agreements it can operate interchange shipments to any point of the Mexican Railway System.
DISTANCE TABLE
City
Highway
Railway

México (Pantaco)

689 Km

863 Km

Morelia

320 Km

416 Km

Cuernavaca

691 Km

N / A

Querétaro

591 Km

623 Km

Puebla

817 Km

1,028 Km

Guanajuato

568 Km

592 Km

Guadalajara

718 Km

683 Km

Monterrey

1,316 Km

1,292 Km

Altamira

1,231 Km

1,266 Km

San Luis Potosí

780 Km

792 Km

Toluca

623 Km

897 Km

Veracruz

1,122 Km

1,303 Km

Laredo

1,538 Km

1,558 Km
TPP se localiza en Canal Oriente S/N, Av. de los Rios, Apartado Postal #83, interior del Recinto Portuario, el cual se concibió como un complejo industrial portuario y actualmente se perfila como el primer puerto concentrador de carga del Pacífico Mexicano.

Es el principal puerto del Pacífico ya que cuenta con más de 2 mil hectáreas disponibles para nuevos proyectos industriales. El Puerto puede recibir buques Cape Size con más de 120 mil toneladas de carga.

Una posicion de atraque, con capacidad de recibir buques Capesize de hasta 1500,000 toneladas de peso muerto.

Es el puerto con mayor calado del país:
- 18 m en su canal de acceso.
- 16.5 m en canales interiores